For much of 2022, the biggest target of disinformation in Iraq wasn't the government, or the US, or even a local political party, it was a multinational construction company. In December 2020, Korea's engineering giant, Daewoo, won a $2.6 billion contract from the Iraqi government to modernise Al Faw port in the country's south. This made the company an obstacle to China's ambitions in Iraq.
Political risk consultancy Eurasia Group recently named disinformation as its third biggest threat to watch out for in 2023 on the basis of the potential impact new developments in AI are likely to have on online influence and disinformation activities. The company's analyst said "Generative AI will make it difficult for businesses and investors to distinguish between genuine engagement and sentiment on one hand and sabotage attempts by hackers, activist investors, or corporate rivals on the other; with material implications for their bottom lines"
Daewoo's Al Faw project is ground zero for disinformation crossing over from the political to corporate worlds. Iraq hopes the new port will help it boost trade. While at the same time, China is a growing economic player in the Middle East, and Iraq is a waystation in plans for its Belt and Road Initiative.
The disinformation being aimed at Daewoo in relation to Al Faw offers a peek into the techniques and methodologies we can expect in the broader Middle East and Africa as this competition hots up. Valent's monitoring of disinformation in Iraq suggests that China will increasingly use online manipulation techniques to aid its economic competition with the West.
News reports suggest that despite the challenges posed by the war in Ukraine, the pandemic, and the tragic death of a company official in somewhat unclear circumstances, Daewoo is still on course to have the port operational by 2024 as planned.
However, since the signing of the deal, the Korean company has faced an intense, hostile influence operation consisting of over 30 Facebook groups, 20 Facebook pages and political influencers consistently reaching near a million people in and around Basra, where the port is located. The network is based on fake accounts that register multiple inauthentic Facebook pages which are then used to disseminate content. This digital infrastructure is then used to disseminate content via coordinated sharing and automated posting that is designed to undermine Daewoo's presence and activities.
Valent's research team identified posting patterns – including content and time stamps – that indicated technical traffic manipulation, also referred to as Coordinated Inauthentic Behavior (CIB). This type of behavior is often used by actors to artificially inflate the reach and impact of their content.
Examining the content being pushed through the network, it became clear that the narrative being used by the influence operation revolved around depicting China as Iraqis' most reliable international partner and the major power best placed to bring an end to western dominance in the region. The operation produces a stream of content in the form of articles, video reports and photos that constantly reiterate four key themes as listed below:
China is a source of investment and mutual economic benefit for Iraq/the Arab world
Western actors (specifically the US government) exploit Iraq and the region's resources
Daewoo is a front for Western economic exploitation
The Al Faw project is a means to extend Western control over Iraq's resources
In reputable journalism, the events lead the explanation. In influence operations, the depiction of events is manipulated to conform with the effort's messaging themes. In many cases, quotes are made up to fit the desired message.
For example, in late 2022, the network promoted comments falsely attributed to former White House chief economic adviser Larry Kudlow. In the purported comments, Mr. Kudlow supposedly said that if Iraq and China went ahead with their strategic agreement, the U.S. dollar would collapse against the Iraqi dinar and Iraq would become the link between China and Europe. Despite these comments being fact checked by Misbar, a Qatari funded Arab fact-checking platform that focuses on disinformation, this false quote was purposefully bounced between the network's accounts, which tricked Faecbook's algorithms into pushing it to a greater number of people's timelines. Such behaviour corresponds to the textbook description of disinformation as purposefully false information promoted for political, financial or some other kind of benefit.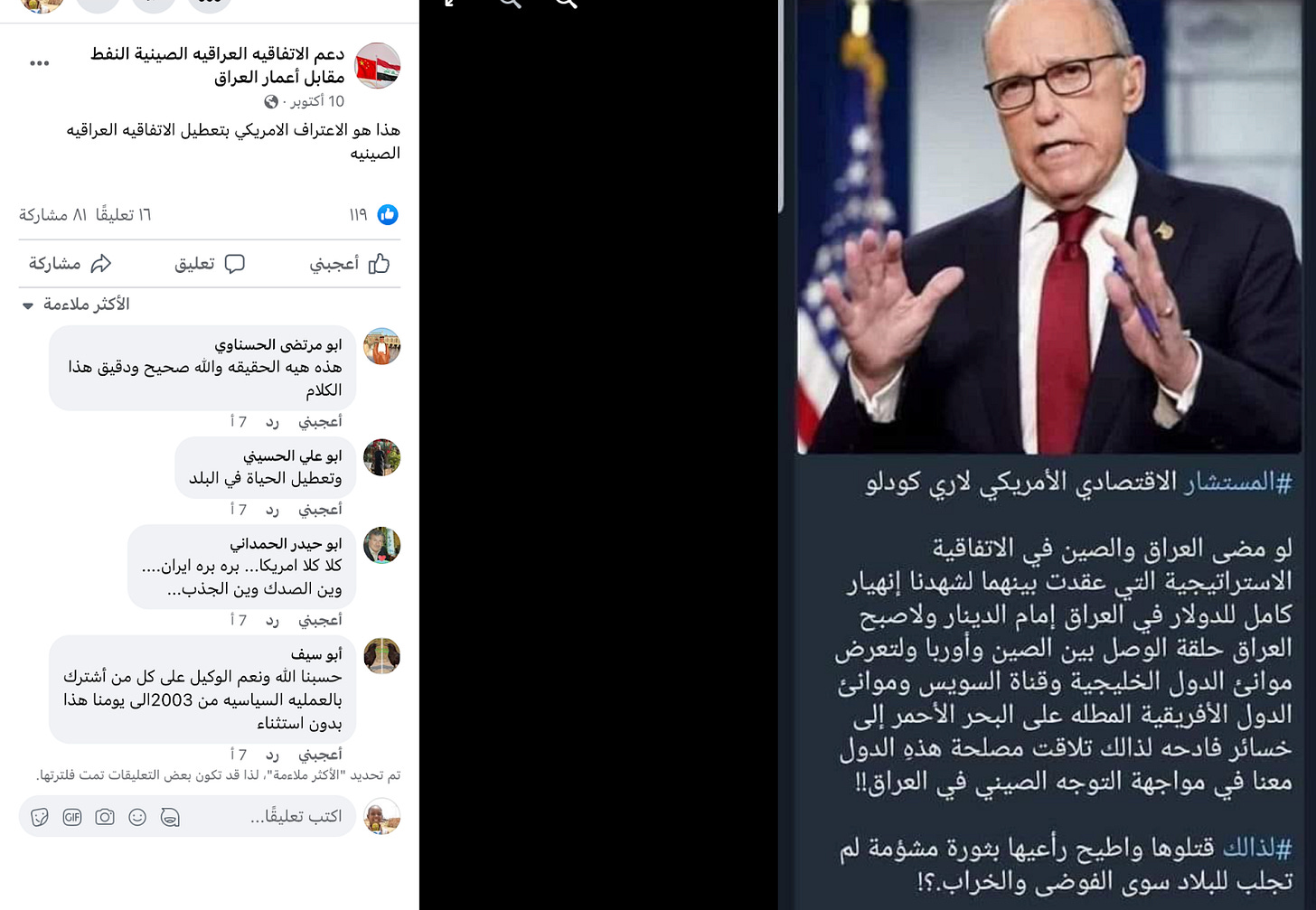 On November 22, the network turned its attention to U.S ambassador, Alina Romanowski, who was accused of undermining Chinese-Iraqi relations and destablising Iraq. Again, false comments attributed to the ambassador, claiming that "demonstrations would erupt in Iraq" if the al-Sudani government did not fall in line with the U.S. government's demands, were promoted via the fake accounts in the networks. The fabricated comments were later debunked by the Iraqi human rights observatory. However, fact checking, as is often the case, had limited impact. Authentic users ran with the idea and generated new posts based on routine meetings that claimed to "prove" the operation's central claim.
The network's online activity is coordinated with real-world political action that is often undertaken by political parties with links to Iran. Accounts engaging with the anti-Daewoo campaign would be promoting Iran's political activities in Iraq, and attacking the international community's policies on Iran. In addition, profiles would promote Shia'a back paramilitary group, Hashd Al-Shabi, and have profile pictures of Iran's military leaders such as Qasiem Suliemani, and Khaminae.
Iraq's anti-Daewoo operation is a taste of things to come in 2023 and beyond. Political influence in resource rich countries, geopolitical positioning, and billions of dollars in potential profits, are going to drive an AI-powered arms race in deception and manipulation. What we are seeing now in Iraq, is probably also happening in Africa, Central Asia and South America.