Breakdown of an online influence campaign originating in India that led to street clashes in the UK
In September, foreign actors successfully used online manipulation techniques to radicalise public discourse and cause significant real-world violence between Muslims and Hindus in the UK. Valent Projects decided to investigate due to the risk the same techniques could be used to instigate conflict in the future.
The research team used publicly available analysis tools (Hoaxy and OSO Botometer) to examine posts claiming Muslims in Leicester, London and Birmingham had, or were planning to, attack Hindus and their places of worship. By tracking posts, sharing patterns, content approach and impact on real-world events, we were able to determine that largely India-based actors aligned with the ruling religio-nationalist party, the BJP, had sought to influence public discourse and events on the ground.
Timeline:
For context, the broad timeline of events is as follows:
On August 29, following an India-Pakistan cricket match, a video phone clip posted on social media shows men in Indian colours shouting "death to Pakistan" in Leicester
Between September 1-4, short video clips shared on social media show people described as local Muslims, sometimes chanting anti-BJP slogans. In one video, a man is seen ripping a Hindu flag from a wall and another man wields a knife
High-follower Indian and British Indian accounts use the clips from September 1-4 to portray events in Leicester as an effort by Muslims to target the local Hindu population.
From September 7, events in Leicester attract the interest of mainstream populist media in India, high-profile pro-BJP accounts in India and right-wing American accounts who all portray events proof of Muslims attacking Hindus
September 8-16, real world confrontation ebbs, but Muslims and Hindus mobilise online
On September 17, events came to a head as two competing protests take place in East Leicester with 200-300 people separated by police
On September 18, social media is flooded with footage from the protests as well as older footage from September 1-4. One clip of a man ripping down a Hindu flag is used repeatedly.
September 19, online discourse radicalises as the Indian government issues a statement, and London-based Muslim supremacist Mohamed Hijab posts an anti-Hindu video statement. Posts start appearing claiming to show Muslims intend to protest at temples in London and Birmingham. Hashtag use peaks at over 30,000
On September 20, Muslims organise a protest at a temple in Birmingham. One man is seen making offensive gestures
On September 24, pro-BJP influencer accounts share posts claiming to show Muslims plans for a protest at a temple in Wembley, London. Police and local authorities mobilse. The original posts come from suspicious accounts but are referred to by Tommy Robinson and pro-BJP influencers. No protest materialises
Observations:
Online activity was driven by influential accounts, bot-powered networks, and fabricated content. The effort also drew on support from American and British hard-right actors. Many of the low-grade accounts in the networks (often used primarily for retweeting content) also contained pro-Russian content. In one case, a post urged British Hindus to leave the UK as the government could not guarantee their safety, and move to Russia.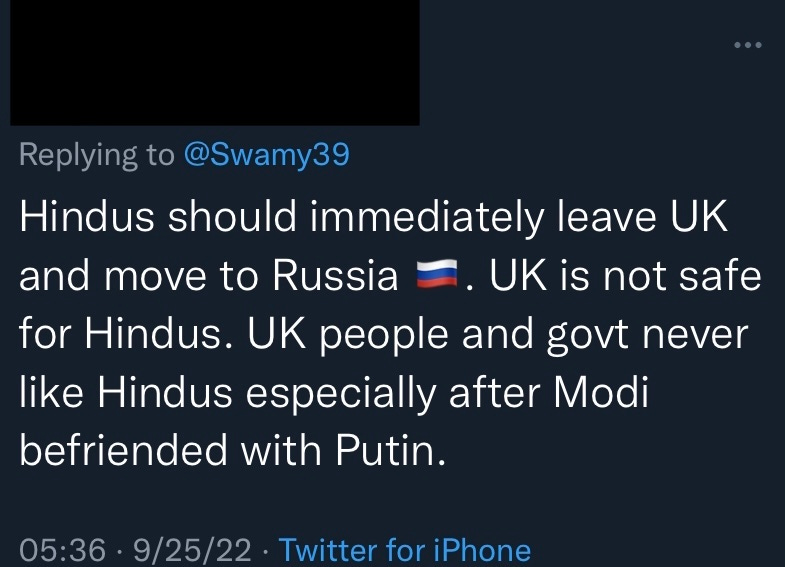 We noticed manipulation attempts early on. Two days after the emergence of the footage of the India fans insulting Pakistan, pro-BJP influencer Saurav Dutt (@sd_saurav) used a link to an article from 2017 to claim Hindus had been the victims of the more recent incident. In other instances, we found evidence of the use of content that seemed likely to have been fabricated. A month on from the Leicester incident, high-profile accounts shared a post supposedly from a Muslim calling on people to protest in front of a temple in Wembley. The original posting account (@apnamuslims) either never existed or was suspended. Also, the language and imagery in the original graphic made it seem unlikely it was produced by British Muslims. The post's engagement patterns suggested it had generated nearly no traction, whereas the pro-BJP accounts highlighting it as an example of Muslim extremism boosted its reach many times over.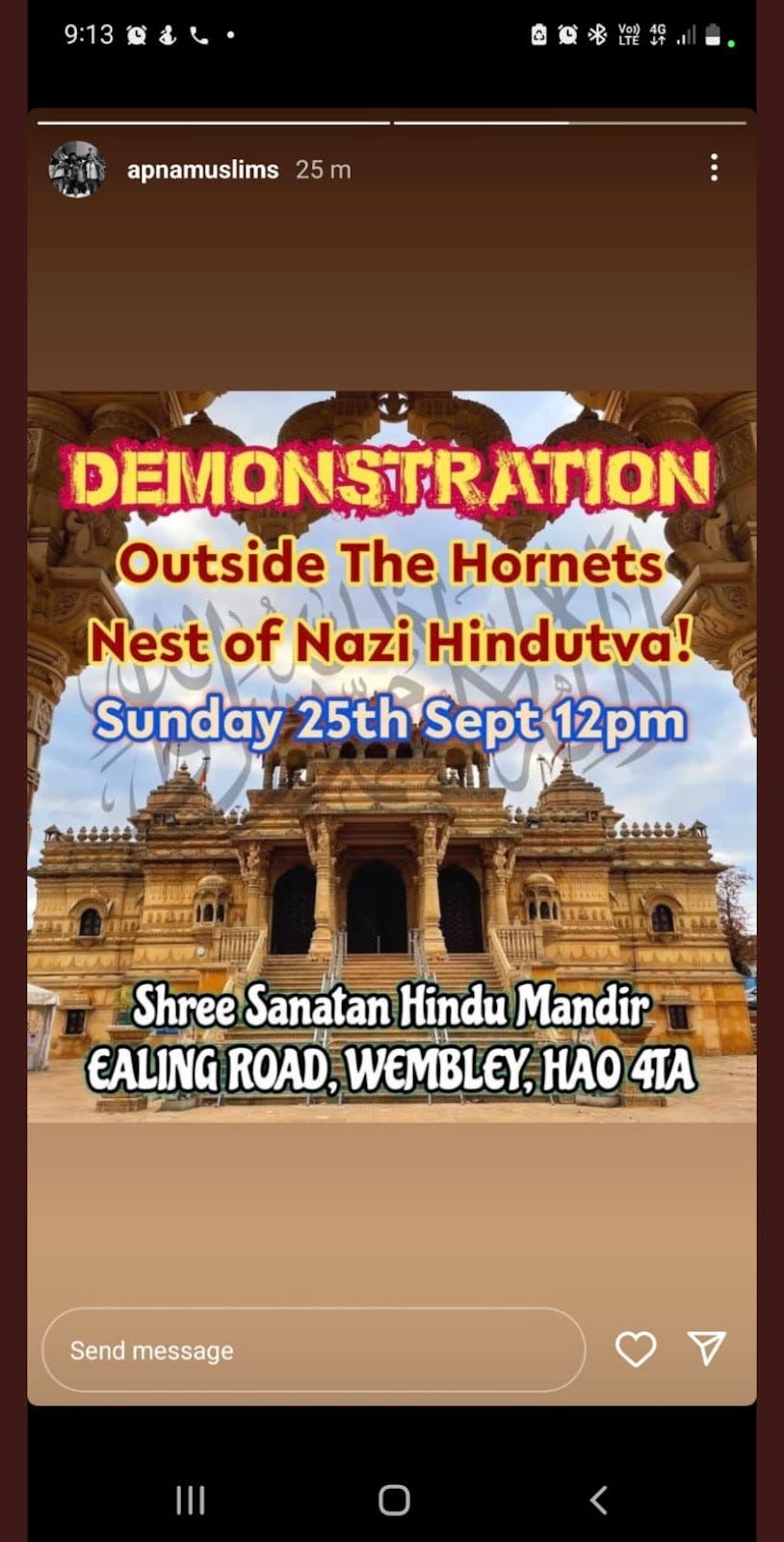 Engagement patterns for the hashtag #HindusUnderAttackinUK strongly suggest the use of coordinated networks and bot accounts. Over a three-week period, the hashtag was used by 36,714 accounts. However, a large proportion of these accounts were merely re-tweeting; a classic sign of network manipulation. For example; @girlforjustice, published a post using the hashtag on September 9, making her one of the first accounts to use it. However, the post gained most of its engagement after coordinated networks were triggered on September 18. More than half of the accounts retweeting it were identified by OSOME's Botometer as likely to be bots.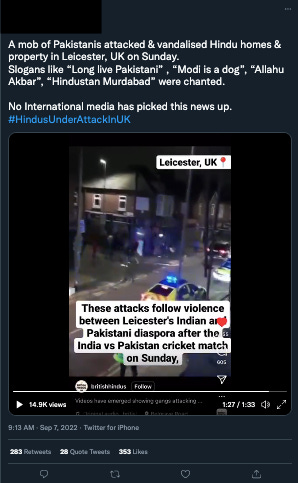 We observed two types of accounts: high-quality ones we call "seeders" as they are usually used to introduce content into the information space; and low-quality accounts we call "superspreaders", usually used to make content trend by retweeting en masse.
High-quality accounts included those of known individuals such as Saurav Dutt (mentioned previously), as well as Rashmi Samant (@RashmiDVS), ex-president of the Oxford Student Union. UK media reported Samant was forced to resign after it was revealed she had derogatory terminology on social media, including a frivolous pun in relation to the holocaust. She has since gained a pro-BJP following after citing hinduphobia as the reason for her resignation. Others include Sarah L Gates (@SarahLGates1), a pro-BJP Australia based influencer, and Jyot Jeet (@activistjyot), a New Delhi based far right activist. Other notable accounts belonged to the organisation InsightUK, a self described "social movement supporting British Hindu and British Indians."
High-quality accounts were used to introduce concepts or talking points; in this case, challenging the predominant view in early September that the Indian cricket fans had been belligerent. A week later, they moved on to pushing the narrative that events demonstrated Muslims were extremists and terrorists intent on harming Hindus. The low-quality accounts were used to retweet the core points or harass those who challenge the position.
Looking at the hashtag's dissemination patterns, there are several clearly discernible clusters around the high-quality accounts. The high number of accounts coloured red in each cluster suggest high-quality accounts are amplified by bots. More than 35% of the total number of accounts using the hashtag were likely bots.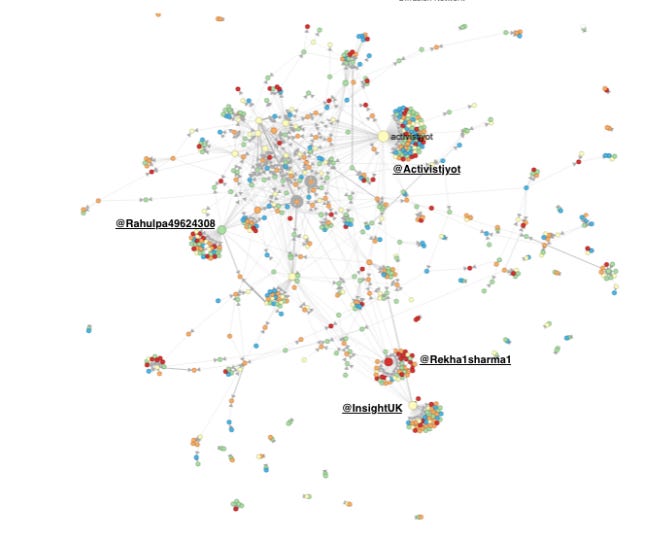 The pro-BJP networks also benefited from amplification via other extremists. The initial hard-right response was to point to events to disparage the idea of multiculturalism. However, Tommy Robinson first entered the online fray on September 6 to support the depiction of events as Muslims targeting Hindus, using the phrasing "braying mobs of Muslims trawling the streets of Leicester looking for Hindus". He later commented twice more on various social media platforms (although not Twitter, which banned him). Similarly, high-profile, pro-Trump US troll and vegan Amy Mek (@AmyMek) also repeated the BJP narrative to her 227,000 followers.
The increasing radicalisation of the rhetoric used by the pro-BJP and hard right accounts seems to have emboldened more extreme Muslim voices. A week after the first video surfaced, posts by Muslims called on both Muslims and Sikhs to protest against BJP extremism. Another week later, Mohamed Hijab, (@mohammed_hijab), London-based Muslim espousing supremacist views, posted videos containing veiled threats and insults.
After a Muslim protest failed to materialise in London or Birmingham on September 25 as claimed in the questionable @apnamuslim post, the pro-BJP seeder and superspreader accounts quickly moved on to other issues. As a result, engagement with the #HindusUnderAttackinUK hashtag fell dramatically. At its height on September 19, the hashtag was used 30,619 times. On September 26, a day after the final protests were meant to take place but didn't, hashtag use had fallen to 1,377. The dramatic drop suggests the hashtag's popularity was due to inauthentic behaviour with limited organic traction.